Innovation and sustainability
How nascent technologies and the shift towards sustainability are shaping the corporate experience of tomorrow
Commerzbank Insights speaks to Matthias Lais, Founder Director of main incubator, about how nascent technologies such as quantum computing – and a growing focus on sustainability – could define the future of the banking industry and wider corporate landscape.
The pandemic has served as a catalyst for change and modernisation across the finance industry. Is this simply a passing phase, or do you think this trend is here to stay?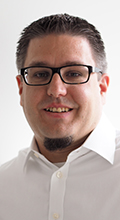 Matthias Lais: Covid-19 has had the positive impact of fostering growth in digitalisation – amongst both banks and corporates. Necessity is the mother of invention, and enabling the swift move towards remote working is just one example of how digitalisation has helped society to reckon with the challenges posed by the pandemic. But the commitment of financial institutions (FIs) to innovation – particularly client-centric innovation – is nothing new, and the pandemic is merely accelerating a long-term trend. Hopefully, of course, this appetite to accelerate digitalisation in the industry will endure.
Another trend to note is that the banking sector's horizons have been steadily expanding beyond traditional banking functions in order to deliver added value. By working closely with clients to understand their wider business requirements, banking partners are increasingly able to tackle day-to-day corporate issues that previously lay outside the scope of their services. To provide this broader suite of solutions, FIs are seeking opportunities to collaborate with a range of start-ups and fintech providers. Main incubator is now working with a start-up providing travel expense management solutions, for example – an area where innovation can make corporate processes simpler.
The technological means of achieving such innovative leaps forward can take many forms, with some already familiar – such as blockchain – and some that are yet to make their mark. As Commerzbank's research and development (R&D) unit, it is the more nascent, promising technologies – quantum computing, to name just one exciting and upcoming innovation – that we dedicate the majority of our time to.
What stands out about quantum computing in particular? Could we soon be seeing any practical applications in the market?
Matthias Lais: Quantum computing is currently generating a great deal of excitement, and for good reason. It utilises the phenomena of quantum physics to deliver faster and expanded processing power, allowing the resolution of computational problems that classical computers cannot yet solve. As big data gains ever-more importance in the corporate world, we believe that quantum computing will likely become essential to extracting valuable insights from constantly expanding quantities of information. One possible financial application would be in portfolio optimisation, where asset managers can use quantum computing to efficiently and effectively identify an optimal portfolio of assets from a large pool of potential options, based on specified criteria.
But quantum computing could also promote efficiency across a whole range of banking computational processes, especially regulatory calculations, which sometimes currently take hours or even days. This technology has the potential to reduce that time to minutes, resulting in considerable time and cost savings.
Main incubator has already designed a number of promising prototypes in the quantum computing space. We've recently collaborated with Fujitsu on a project involving digital annealing – a process that uses quantum-inspired digital technology. While it is not a full quantum computer, this project has demonstrated a capacity for enhanced processing speed and can perform complex calculations with great precision.
While these prototypes have so far shown promise, it is important to emphasise that quantum computing development is still at an early stage, and requires considerable investment and research to become mainstream. We are encouraged, however, by the swift pace of development so far.

Main incubator's R&D efforts have also embraced areas such as artificial intelligence. Have you made any recent progress in this space?
Matthias Lais: We are great believers in the possibilities offered by artificial intelligence (AI). Main incubator is an active participant in the Financial Big Data Cluster (FBDC), a consortium creating a secure data exchange framework to integrate previously unconnected financial data. Bringing together various market players in the spirit of collaboration, this industry initiative aims to lay the foundations for optimising AI and machine learning applications in the financial sector. For instance, the shared data pool will make compliance processes – which often require the same data from multiple banks – streamlined, faster and more efficient.
Data also lies at the heart of another major initiative main incubator is developing – Lissi, which stands for "Let's initiate self-sovereign identity". Using distributed ledger technology (DLT), Lissi aims to give individuals and organisations – rather than large tech companies – full control over their personal data. Another ambitious collaborative effort, this project has brought main incubator and Commerzbank together with other major European banks, large German industrial corporates and the Bundesdruckerei – the German state-owned corporation that manages the country's ID card system. Lissi is showing great promise, and we expect that the principles behind this project could in the future be applied to devices and appliances that are connected to the internet of things.
Aside from the latest technological developments, the corporate world is also embracing the growing shift towards sustainability. Do you feel that innovation and sustainability sometimes compete for attention within the largest organisations, or are they complementary?
Matthias Lais: They are certainly complementary. Environmental, social and governance (ESG) principles lie at the heart of everything we do, and that includes our approach to innovation. Covid-19 has changed the dynamics of the global economy, making it clear that businesses must take urgent action to embed sustainability principles into decision-making if they hope to remain ahead of public and regulatory expectations. With respect to FIs specifically, building sustainable practices into their innovation strategies – and helping corporate clients become more sustainable organisations – is a rising item on their agendas.
Main incubator, aside from investing in sustainable initiatives, is committed to helping our clients progress on their sustainability journeys. For instance, we are working with a client in the funds space on a system that provides ESG ratings for illiquid assets which, unlike assets listed on the public capital markets, currently do not have data that is publicly accessible.
An important point to recognise is that, while much of the focus within the industry is currently centred upon the challenges businesses face in meeting evolving ESG requirements, embracing sustainability objectives must not be regarded as simply a box-ticking exercise, but rather as an opportunity to innovate. The global transition to sustainable practices across many sectors will inevitably require profound change – and while navigating this landscape presents obstacles, it also brings with it the prospect of yet unforeseen opportunities as technology and sustainability combine to enable new products, solutions and business models.
Insights: Working closely with partners seems to be a key aspect of main incubator's ethos. Do you also deploy the same approach with regard to your sustainability initiatives?
Matthias Lais: We strongly believe that the best way to foster meaningful, widespread change is by encouraging organisations with different perspectives to work together. It is this that led us to organise and launch the "Impact Festival" initiative in April 2020, a regular hybrid conference that has become the largest B2B sustainability event in Europe. The Impact Festival takes place on September 16 and 17, bringing together in person our online community of like-minded market actors – including internationally active corporations, green start-ups and investors – to share their thoughts on all aspects of sustainable business.
More than just a conference, the Impact Festival is viewed by us as a community-based platform designed to connect corporates with innovative start-ups and other resources to support their ESG needs. By introducing the most promising innovators, thought leaders and solution providers to our extensive global network, we believe we act as a hub for the sharing of ideas and best practices. Working towards a sustainable future – just like developing algorithms or quantum computers – is easier when organisations align their efforts. We look forward to creating that future together.